Sharing with a Group
Sharing a VoiceThread with a Group is a quick and easy way to securely grant access to a number of people at once.
---
From the Group space
Click on the Group in the sidebar on the left side of your VT Home page to see the existing content in that Group.
Click "Add Your Own" in the top-right corner.

If you want to share a VoiceThread you've already created, click "Select from my VoiceThreads".  If you are creating a new one, click "Create a new VoiceThread".
At this point, you'll be walked through the process to select or create your VoiceThread on screen.
---
 On the VT Home page
Click and drag a VoiceThread toward the left side of the VT Home page. Your Groups menu will pop open if it's not already open.
Drop the VoiceThread onto the Group with which you'd like to share it.

Review to make sure that the correct Group is selected in the drop menu, decide whether you want to share the original VoiceThread or share a unique copy of it, and select the button to give this group viewing access, commenting access, or editing access for your VoiceThread.

If you are sharing a copy, make sure to give your new copy a name and decide which comments you want to keep.

Click "Share".
---
 From the sharing area
Access the sharing area.
Go to the Secure tab.
Click on the name of the Group(s) with which you'd like to share. Those Group names will appear in the top-right corner of the window.
Click on the level of permission you'd like to give the Group on the right side of the page.
Click "Share".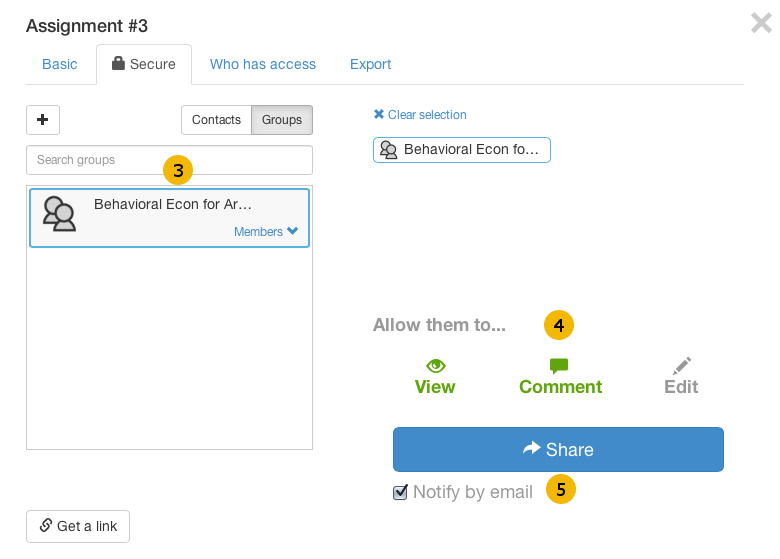 Note: Free account holders can only share with a Group from the VT Home page.  You must own or be an editor of a VoiceThread to share it with a Group.